The team at ADSBexchange.com is consistently asked one question.  The repeated query indicates providing an open free tracking site with no restricted features is not enough for those accustomed to the other well known aircraft tracking sites deceptive marketing practices.
What's in it for feeders? aka What's in it for me? 
When you add ADSBexchange.com to your current feeder or install a new feeder, you are supporting the ONLY independent aircraft tracking site that offers real-time near global coverage with no gimmicks or obfuscation.
Unlike other aircraft tracking sites that attempt to bribe feeders with misleading "business" or "enterprise" accounts, ADSBexchange.com does not artificially remove ADS-B data or features then give those features back to users if they setup receivers.  It is difficult for some to understand the value of ADSBexchange.com because they have suffered under deceptive "enterprise" or "business" accounts false marketing tactics for almost 20 years.   Those other sites have hidden that they made billions of dollars in profit from feeder data in the last two decades.
To please the "what's in it for me" crowd, ADSBx has added feeder only benefits that do not take away from the non-feeder users.  Sending data that supports the ADSBexchange.com mission of transparent flight tracking means a contributor can enjoy an ad-free experience and additional map layers.
Please setup an ADS-B receiver or add ADSBexchange.com to your current feeder.
All feeders get access to their ADSBexchange.com Anywhere remote map and data.  No accounts required.  Feeders and their friends can share their ADSBexchange.com Anywhere links!  That is a feature only available at ADSBExchange.com.
Those who do not wish to host a receiver can also subscribe for $2.99 a month and get the Premium Black Enterprise Business Platinum Gold features.  The team at ADSBx would prefer you add ADSBx to your feeder or setup a feeder instead of subscribing, because everyone benefits from more data.
ADSBexchange.com Premium Black Enterprise Business Platinum Gold
Get all the great features of https://globe.adsbexchange.com/ without the ads, plus:
Premium map layers
High detail satellite map layers
Aeronautical chart layers

Weather radar (US, Germany)

Detailed aircraft information
Detailed ADS-B data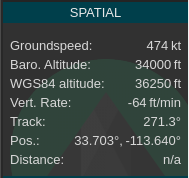 Aircraft ownership information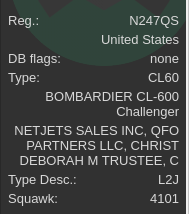 LADD PIA unblocked and tracked
Unblocked and Unfiltered MLAT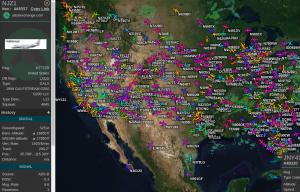 Military, commercial, and private aircraft
No filtering or blocking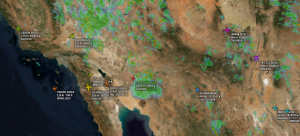 Replay of historical tracking data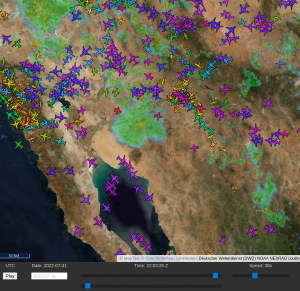 Aircraft history starting March 2020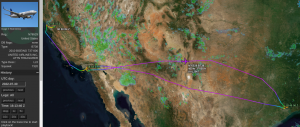 Frequently Asked Questions:
How does a feeder claim the ADSBexchange.com Premium Black Enterprise Business Platinum Gold Features?
If you are a feeder, visit https://adsbexchange.com/myip, and click on "ad-free map" below the green smiley faces to activate your ad-free subscription. No registration or account sign up needed.
What else does ADSBexchange.com do with the ADS-B data feeders send?
ADSBexchange.com provides no cost data and platform for emergency services, public safety, search and rescue, and public good organizations.   The other tracking sites charge these same organizations hundreds of thousands to millions of dollars a year for that same data.
ADSBexchange.com does not associate itself with authoritarian regimes nor is it intimidated by powerful individuals or entities that attempt to suppress its mission of providing open and unfiltered flight tracking.
By sending data to ADSBexchange.com or adding ADSBexchange.com to your current ADS-B receiver, your data is actually doing good for everyone, not just making a corporate bank account fat.