Als erstes möchte ich Danke sagen. Die gute Nachricht ist, Daten für  ADSBexchange.com zur Verfügung zu stellen geht schnell und einfach.
Es gibt mehrere Möglichkeiten, abhängig welchen Empfänger du benutzt und dem gewünschten Grad der individuellen Anpassung.
[ 
ADSBx image
 ] Dies ist der schnellste Weg wenn du bei Null beginnst und du die ADSBx Übersicht auf dem Raspberry Pi haben möchtest. [ 
Script Method
 ] Falls du schon eine andere kommerzielle Seite mit Daten versorgst, dann kannst du diese auch an ADSBx schicken.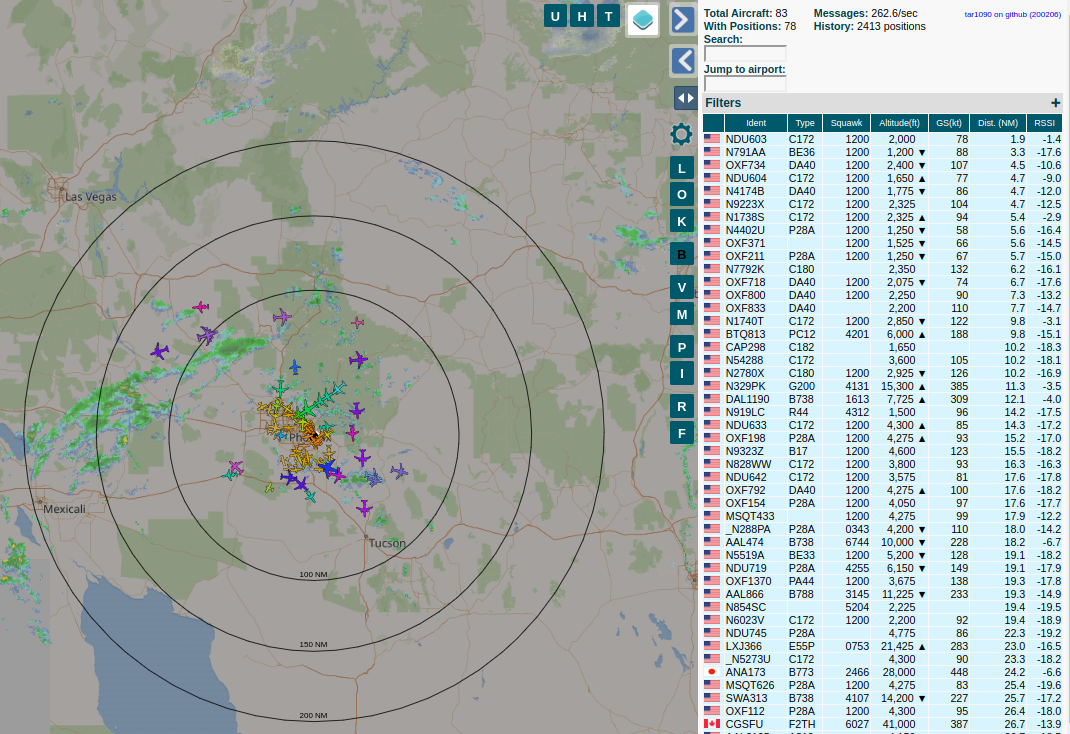 ADSBx stellt ein angepasstes Systemabbild mit Statistiken, Übersicht, Karten und vielen anderen Funktionen zur Verfügung!
Warnung: Datenklienten anderer kommerzieller Seiten sind nicht so rücksichtsvoll wie ADSBx und werden gelegentlich versuchen deinen Empfänger und die Daten zu übernehmen. Wir können dich ggf. nicht immer unterstützen falls das passiert.
Wenn du weist was du machen musst, hier ist der direkte Link zum Systemabbild: https://adsbexchange.com/myip/downloads/adsbx_buster.1.0.zip
Um das Systemabbild auf die SD-Karte zu kopieren empfehlen wir die Benutzung von  BalenaEtcher.
Lies die ADSBX SSYSTEMABBILD ANLEITUNG für detaillierte Anweisungen
Um zu prüfen ob dein Empfänger richtig arbeitet nachdem du das Systemabbild installiert hast, gehe zu  https://www.adsbexchange.com/myip/
---
ADS-B Exchange Installationsskripte

Diese Skripte helfen dir bei der Installation um ADS-B Daten von deinem Empfänger an ADS-B Exchange zu senden.  Als Minimalausstattung benötigst du ein Raspberry Pi mit Raspbian Systemabbild und einem SDR mit dump1090 installiert, konfiguriert, das beim Booten startet.
Die Skript Methode ist für alle Empfänger die mit dump1090 arbeiten und Beast Daten auf Port 30005 ausgeben.
Die Skripte wurden aktualisiert um als systemd Service zu laufen.
Skripte bekommen und benutzen
Die folgenden Befehle laden den Inhalt des Repository runter und starten die  Installation.
curl -L -o /tmp/axfeed.sh https://adsbexchange.com/feed.sh
sudo bash /tmp/axfeed.sh

– Nach erfolgreicher Installation das Repository nicht löschen! –

Statistik Paket – adsbexchange-stats (Optional) (Nur für Raspberry Pi Empfänger) (Benötigt für API Zugriff)
Running the following commands on your Raspberry Pi will download the stats package and allow you to see your feed directly on the site.
curl -L -o /tmp/axstats.sh https://adsbexchange.com/stats.sh
sudo bash /tmp/axstats.sh
All MLAT participants will receive a back-feed of any aircraft where their data was used in the calculations. Unlike commercial ADS-B sites, no aircraft will be censored, hidden, removed, or otherwise scrambled.
To test your feeder is working correctly, or to get your direct link if stats package is installed, go to https://www.adsbexchange.com/myip/
---
Other Useful commands
MLAT Konfiguration anzeigen

cat /etc/default/adsbexchange
sudo systemctl status adsbexchange-mlat
sudo systemctl status adsbexchange-feed
sudo systemctl restart adsbexchange-feed
sudo systemctl restart adsbexchange-mlat
---
Standort Position und Höhe ermitteln
Du kannst  DIESE WEBSEITE  benutzen um die Standort Position (Längengrad/Breitengrad) sowie die Höhe zu bestimmen. Die Webseite stellt dir die Höhe am Boden zur Verfügung, du musst noch die Installationshöhe deiner Antenne addieren.
Probleme melden
Es steht dir frei Probleme, die du mit diesem Skript hast, im  Forum oder über den ADSBx Kontakt hier zu melden.
GitHub: https://github.com/adsbxchange/adsb-exchange
Brauchst du Hilfe? Besuche den Discord Chat: https://discord.gg/JJ6QC4c
Das ist alles, dein Flugverkehr sollte nun auf der  Globalen Radar Seite sichtbar sein.
Fall etwas unklar ist, oder du Fragen hast, starte eine Diskussion im  Forum oder besuche unseren  Discord chat  für weitere Hilfe.